Trastorn per Dèficit d'Atenció amb Hiperactivitat a l'escola
Resum
L'elevada prevalença del TDAH en els últims anys suggereix realitzar una anàlisi exhaustiva del concepte, de cara a facilitar el coneixement del trastorn que permeti intervenir de manera adequada tant en la fase d'avaluació com en el disseny de la resposta educativa. Per això es descriuen les principals característiques del TDAH així com els trastorns comòrbids més freqüents. Es revisen alguns instruments d'utilitat per a l'avaluació del TDAH així com tècniques de tractament basades en diferents mètodes que puguin ser d'aplicació en l'àmbit escolar i es realitzen algunes orientacions per a l'escola.
Referències
American Academy of Pediatrics Clinical Practice Guideline (2000): Diagnosis and Evaluation of the Child with Attention Deficit /Hyperactivity Disorder. Pediatrics. 105: 1158-1170.
American Medical Association Science News (1998): Little evidence found of incorrect diagnosis or overprescrition for ADHD. JAMA 279:110-1107.
American Psychiatric Association (1995) : DSM-IV. Manual Diagnóstico y Estadístico de los Trastornos Mentales. 4a. edició. Masson, Barcelona.
Barkley RA (1999): Niños hiperactivos. Cómo comprender y atender sus necesidades especiales. Paidós, Barcelona.
Baumgaertel A, Wolraich ML, Dietrich M (1995): Comparison of diagnostic criteria for attention deficit disorders in a German elementary school sample. J Am Acad Child Adolesc Psychiatry 34: 629-38.
Bonals J, Fuster M, González MA, Romero E, Sardans A, Soldevila MA (2003): Avaluar l'aprenentatge (de 3 a 7 anys). Matemàtiques, llenguatge, dibuix. Graó. Barcelona
Conners CK (1969): A teacher Rating scale for use in drug studies with children. American Journal of Psychiatry, 126: 884-888.
Conners CK (1973): Rating scales for use in drug studies with children. Psychopharmacology Bulletin, Special is-sue: 24-84
Farré A, Narbona J (1989): Indice de hiperquinesia y rendimiento escolar: validación del cuestionario de Conners en nuestro medio. Acta pediátrica española, 47: 103-109, 1989.
Farré A, Narbona J (1997): Escalas de Conners en la evaluación del Trastorno por Déficit de atención con Hiperactividad: nuevo estudio factorial en niños españoles. Revista de Neurología, 25: 200-204
Farré A, Narbona J (1998); EDAH. Escalas para la evaluación del Trastorno por Déficit de Atención con hiperactividad. Tea Ediciones, Madrid.
Farré A, Narbona J (2003); EDAH. Evaluación del trastorno por Déficit de Atención con hiperactividad. Tea Ediciones, 5ª edició revisada. Madrid.
Kadesjö B, Gillberg C (1998): Attention deficits and clumsiness in Swedish 7-year-old children. Dev Med Child
Neurol 40 : 796-804.
Goldman LS; Genel M; Bezman RJ; Slanetz PJ (1998): Diagnosis and Treatment of Attention Deficit Hyperactivity disorder in Children and Adolescents. JAMA 279: 1100-1107
López Mendía MN, Narbona García J (1988): Batería para el examen de la integración psicomotriz en niños de primer ciclo de EGB. Revista de logopedia y Fonoaudiología, 8, 41-48
Miranda Casas A, Ygual-Fernández A, Rosel-Remirez J (2004): Complejidad gramatical y mecanismos de cohesión en la pragmàtica comunicativa de los niños con trastorno por déficit de atención con hiperactividad. Rev Neurol , 38 (Supl1), S111-S116
Narbona García J, Sánchez Carpintero R (1999): Neurobiología del trastorno de la atención e hipercinesia en el niño. Rev Neurol , 28 (Supl 2), 160-164
Narbona García J (2001): Alta prevalencia del TDAH ¿Niños trastornados o sociedad maltrecha?, Rev Neurol, 32 : 229-231
Narbona J, Gaban L (2001): Dificultades de aprendizaje. Espectro del aprendizaje no verbal. Rev Neurol Clin 2: 24-81
National Institute of Health (NIH) (2000): Diagnosis and treatment of Attention-Deficit/Hyperactivity Disorder. J Am Acadam Child Adolesc Psychiatry, 39: 182-193.
Orjales Villar I (2000): Déficit de atención con hiperactividad. CEPE, Madrid 2000
Polaino-Lorente, A.(1997): Manual de hiperactividad Infantil. Unión editorial, Madrid, 1997.
Reardon SM, Naglieri JA (1992): PASS cognitive processing Characteristics of Normal and ADHD Males. Journal of School Psychology, 30: 151-153, 19¬92.
Ruiz S, Ferrer J, Garcia Tornel S (1999): Prevalença del trastorn d'hiperactivitat amb déficit d'atenció en escolars de Barcelona. Pediatria Catalana, 5: 236-242
Rutter M (Ed) (1984): Developmental Neuropsychiatry. Churchill-Livingstone. Edinburgh.
Shaywitz SE, Shaywitz BA (1991): Comorbidity : A critical Issue in Attention Deficit Disorder. Journal of Child Neurology, 6, suppl: S13-S20, 19¬91.
Segura M; Arcas M; Mesa JR: Decideix. Programa de competència social. Generalitat de Catalunya, Departament d'Ensenyament
Taylor EO (1986): The overactive child. Oxford, Spastics International Medical Publications. Blackwell Scientific Publications, 1986. En castellà: El niño Hiperactivo, Martínez Roca, Barcelona , 1991
Weiss G, Hechtman LT (1986): Hyperactive Children grown up. Guilford Press, New York.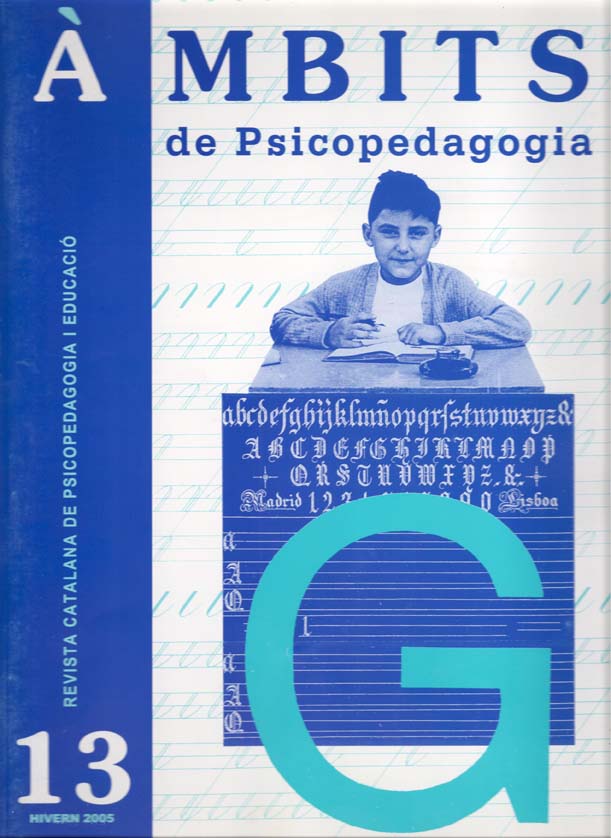 Descàrregues
Secció
Psicopedagogia i Orientació
Llicència
Els autors/ores conserven els drets d'autor i concedeixen a la revista el dret de primera publicació de l'obra, registrada sota una llicència Creative Commons Reconeixement-NoComercial-Sense Obra Derivada. Aquesta llicència permet la descàrrega de les obres, i que es puguin compartir amb altres sempre que se'n reconegui l'autoria, però no permet que siguin modificades de cap manera, ni ser utilitzades amb finalitat comercial.